Winscribe Text
Winscribe Text is a healthcare documentation management system that integrates speech recognition with workflow management to optimize every step from report creation to distribution.
It takes cost and time out of the process while capturing both free-text narrative and voice-driven templates to generate robust patient information.
Making Documentation an Asset for Organizations
Meaningful documentation is essential to patient care and the running of a successful health care organization. Give providers the information they need to practice effectively and efficiently.
Yet, all too often, documentation is seen as a burden – something that takes time away from patient care rather than improving it.  Winscribe Text removes that burden by creating simple yet effective ways for practitioners to capture information in a natural way that allows them to focus on patients.
Winscribe Text Delivers:
 Flexible options for documentation: self-edit or transcription assisted speech recognition, traditional dictation, speech recognition into an EHR, or transcription outsourcing
 A complete environment with all the tools & workflow for each user contained within one system
 Integration with and support for EHRs and other Heath Information Systems
---
System Highlights
 End-to-end clinical documentation management from creation to completion to distribution
 Light network and resource footprint with centralized management of user profiles, user preferences, and document templates.
 Enterprise-level workflow built on the latest Microsoft speech recognition technology.
 Integration into third-party applications via HL7, XML or Web Services
 Flexible licensing options, including on premise hosting to cloud-based subscriptions. Options for group practices to large hospitals.
 A complete range of mobile devices supported
---
Winscribe Text in Action
Winscribe Text manages all aspects of medical documentation and reporting, organized in three functional areas: Document Creation, Document Management and Document Distribution.
---
Sleek User Interface
 The Winscribe Text user interface has been designed with the needs of user's as a first priority. A modern, intuitive design that people enjoy using helps adoption and reduces fatigue with the system.
Centralized & Intelligent System Management
Administrators can quickly and easily manage users, templates, documents, site details, queues and typist from one central location.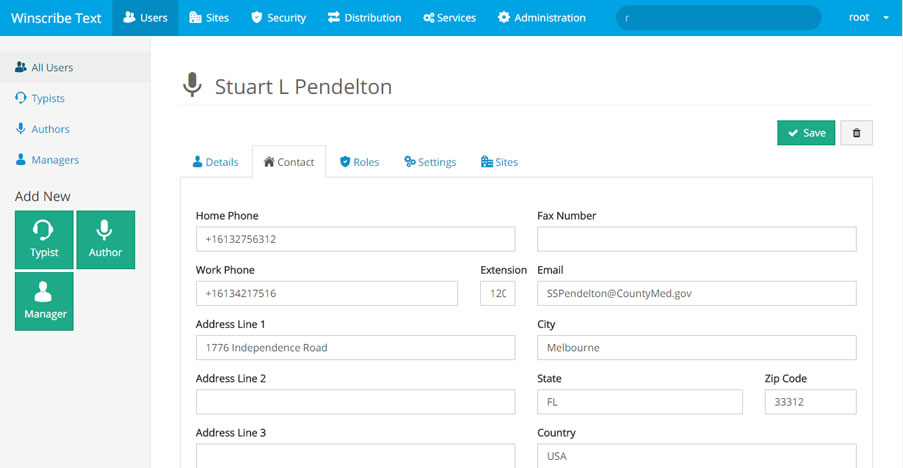 Articles & Information
Get all the information you need. Our info center offers you valuable information around Winscribe software solutions. Choose from a variety of product literature, case studies, customer testimonials and product demonstration videos.